Signature Drink - Mother's Day Sangria
Ingredients
1/2 medium apple (chopped into small pieces)
1 medium orange (rind on, sliced into thin rings, seeds removed)
3 Tbsp brown sugar
1 cup orange juice
1/3 cup brandy (plus more if you've driven mom to drink)
750 ml bottle dry red wine
~1 cup Ice

Instructions
Add apples, sugar and half the oranges to a large mug and muddle with a muddler or wooden spoon for 1 minute
Add orange juice and brandy and muddle again to combine for 30 seconds.
Add red wine and stir.
Adjust flavor as desired, feel free to add more sugar or brandy.
Add ice and stir once more to chill.
Serve garnished with orange slices.

Store leftovers covered in the refrigerator for up to 48 hours.
The Main Event - Full English Breakfast
We don't know if what we know as the 'English Breakfast' is even English. We do know it's a good way to fill up on proteins early in the morning and that it's positively beautiful. 
Meats
You should have
sausages
do not substitute a cheap hotdog for mother's day. Try out one of the Bar-S Jumbo sausages or our anything in the Johnsonville line. Next
bacon
or ham Regular stip bacon if mama likes to eat, substitute turkey bacon or ham if she's a little more health conscious. After all, we've only just gotten started!
Mushrooms
Ordinarily, if a recipe call for 2 cloves of garlic it should be ignored but try this one out.
Ingredients
2 tablespoons olive oil
12 ounces mushrooms cut into large pieces (we recommend baby bella, oyster and king mushrooms)
Kosher salt, freshly ground pepper
4 tablespoons unsalted butter, cut into pieces
2 sprigs thyme
2 garlic cloves, crushed
Instructions
Heat oil in a large skillet over medium-high until just beginning to smoke
Add mushrooms to the skillet in a single layer and cook, undisturbed, until bottom side is golden brown, about 3 minutes.
Season with salt and pepper
Toss mushrooms, and continue to cook, tossing often until golden brown all over, about 5 minutes
Reduce heat to medium then add butter, thyme sprigs and garlic to the skillet
Tip skillet and spoon foaming butter over mushrooms until butter smells nutty, about 4 minutes.
Remove mushrooms from skillet with a slotted spoon.
Eggs
Your choice of eggs are entirely up to your skill level and what your mom likes. A lot of us are partial to a runny yoke, so if you can achieve a picture perfect sunny side up s seen above, then that's what you're doing. Scrambled eggs and omelettes are other options.
Baked Beans
Keep this simple. Warm up a can of baked beans in a frying pan or in the microwave. These are already delicious and come with gravy for dipping.
Vegetables
If you mother made you eat veggies as a child return the favour.
Bruise some grape tomatoes in a pan with garlic and butter then add some lettuce.
Toast
Whole wheat – be healthy.
Big Finale - No Bake Key Lime Cheesecake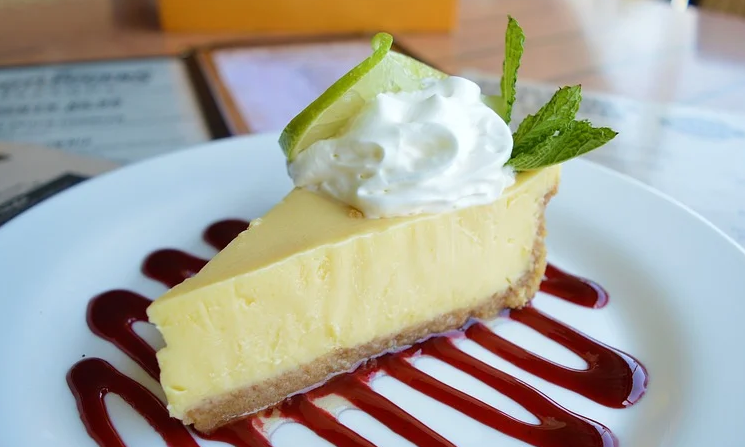 Ingredients
-1 cup finely ground graham crackers
-3 Tbsp sugar
-1/2 teaspoon kosher salt
-5 Tbsp unsalted butter, melted
-16oz (2 packs) cream cheese, room temperature
-14oz sweetened condensed milk
-1/3 cup fresh lime juice, plus 2 tsp grated zest (from 16 limes), and thinly sliced lime rounds for serving
-1/2 teaspoon pure vanilla extract
-1/2 cup cold heavy cream
Instructions
– Whisk together cracker crumbs, sugar, and salt
– Stir in butter until mixture resembles wet sand and holds together when squeezed
– Press evenly into the bottom of a 9-inch pan. Freeze until firm, about 15 minutes
– Meanwhile, in the bowl of an electric mixer fitted with the paddle attachment, beat cream cheese and condensed milk on medium-high speed until fluffy, about 5 minutes.
– Add lime juice, zest, and vanilla. Beat 1 minute more.
– In a separate bowl, whip cream to stiff peaks.
– Gently fold into cream-cheese mixture.
– Pour over chilled crust; smooth top with an offset spatula.
– Cover with plastic and refrigerate at least 12 hours before serving
Garnish with lime rounds before serving. Optional – add mint leaves and whipped cream. 
Store up to 3 days